Warped Tour 2016
It's not every day that you get to meet a few bands that are your idol, and then to have the chance to do it weekly in a months' time, that's even more awesome! That's pretty much what I did this July.


After seeing the awesome Breaking Benjamin, Disturbed, Alter Bridge and Saint Asonia in the previous week at Cuyahoga Falls, I got the pleasure of attending Warped Tour 2016 and seeing these awesome bands: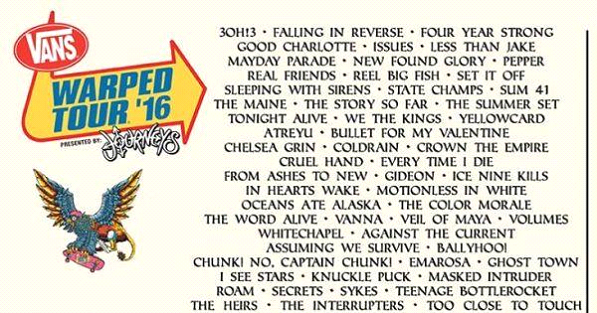 I went with my friend Mike, and we met my boyfriend Matthew there at Warped Tour. Between the three of us, we pretty much decided that the Monster Energy stages were where it was at, and so we decided that we would stay between Monster North and Monster South stages.
Upon arriving and getting through the gates, I made my way over to Monster Energy North Stage because the band White Chapel was on first at 11:15am.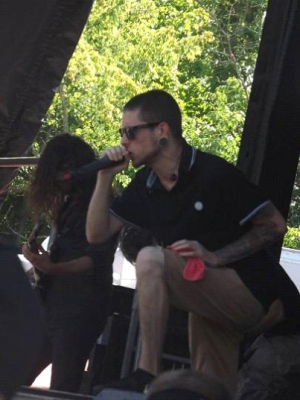 This is a picture of the lead vocalist to White Chapel, his name is Phil Bozeman.
White Chapel has been around since 2006, and they are originally from Tennessee. They are a deathcore band, though they do have a few softer songs, they consist mostly of screaming and typical sounding metal. I was pretty happy that they played one of my favorite songs (and probably the only one I know) called "Elitist Ones" You can view that video here if you are interested:
https://www.youtube.com/watch?v=DbANenk8o1o
If you liked what you heard, and want to purchase more White Chapel Merch, you can do so here:
http://whitechapel.merchnow.com/
Up next on Monster Energy North was a band called Wage War. I had never heard of them. I could not really find anything about them other than they were signed to Fearless Records and it appears they were originally from Ocala, Florida. They were pretty decent. If you are interested in finding more out about them, here is their artist profile:
http://www.fearlessrecords.com/artist/89

It was pretty hot and I think the temperature was in the 100s, so from there, my group went to get food, rehydrate, put on sunscreen, you know, the usual that people typically do when they're outside for several hours.


I forgot to mention, that during my break and time away from the stages, I went to a signing by Ice Nine Kills (I'll cover information about their band farther on, but let's just say I have a pretty big crush on the lead vocalist Spencer haha and I was pretty excited to get a signing by them)

From there, we went back to Monster Energy South for a band that my friend Steven, in Exotype told me to check out. The band's name is Vanna.

Vanna is originally from Boston, Massachusetts. They have been around since 2004, and though they have not put out much music since then, they did just release a new album called "All Hell" and they did recently sign with a new record label called Pure Noise Records. They were a really decent bunch of guys.

Unfortunately, by the time I had the chance to make my way over to their booth, they were off doing their own things and I had to make it back to get to see From Ashes to New.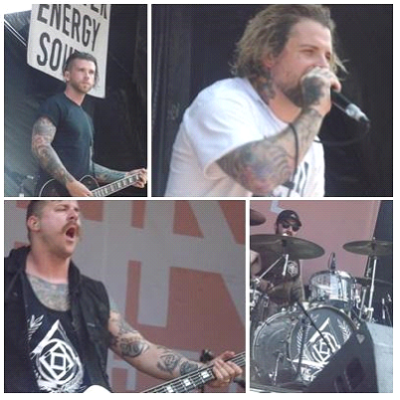 If you want to hear more from Vanna, you can listen here:

https://www.youtube.com/watch?v=Ec4GZiP5XVY&list=PLYQhPJrQIlgPpi49D2MJbGnC_PqwTNLMh
You can purchase Vanna Merch, and their CD/LP here:
http://vanna.merchnow.com/
So… Up Next on Monster Energy South was a band called "From Ashes To New".  They were one of the bands I was really excited and looking forward to see/hear/meet up with at Warped Tour.


I first met this group of guys last year back when they were on tour with Five Finger Death Punch, Papa Roach and In this Moment. I originally got a photo with them after the show, got my ticket signed by them, and got to talking with the lead vocalist Matt about their manager, because ironically, their manager is the same manager that manages another band I promote for, Gemini Syndrome.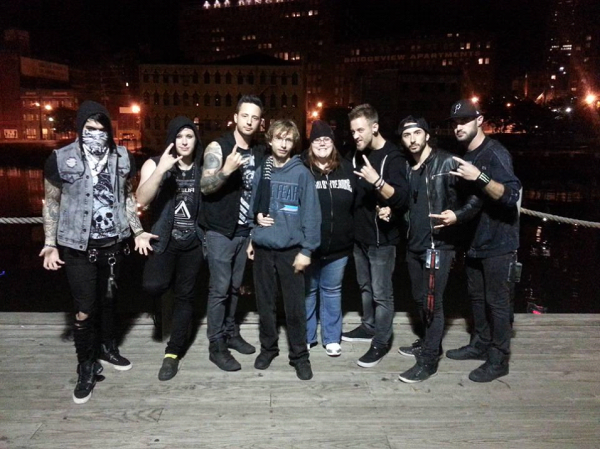 Anyway, back to my original point… These guys were one of the bands I was most excited to see at Warped Tour. I even went over to their booth for a signing after and a picture. I was pretty excited to get the chance to talk with the band and get a picture with them.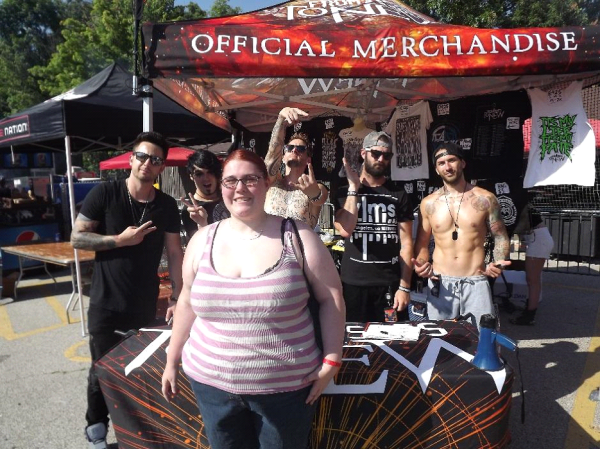 From Ashes to New is one of those bands that combines rap with metal. They originally faced a lot of grief over the fact that people said the two do not belong together, but From Ashes To New makes it work.
Originally from Lancaster, PA, they have been around since 2013. In their early days they promoted themselves heavily on social media outlets and websites such as Instagram and Facebook. They're a bunch of guys who got together from other smaller bands to form a band of their own. Currently, they are made up of:
Matt Brandyberry – Who is one of the two vocalists in the band. He focuses mostly on the rapping part of things.
Chris Musser – Who does the clean vocals
Branden Kreider – Mostly on the Guitar but he does some screaming or "unclean vocals"
Tim D'Onofrio – Drums
Lance Dowdle – Lead Guitar and Backing Vocals
And lastly, Jon Mikel Valudes – Bass.
In the past, there was a previous member Garrett Russel, who also played bass but unfortunately left during mid tour last year to work out his depression, which was really getting to him on tour. He was the other guy who wore a mask on his face, but now Lance gets all the fame (haha)
After they performed, I rushed over to the booth to get my signing and talk with the guys a bit about my work as a DJ for Phoenix Radio, my Promotions for bands, how I am #spreadingtheashes little by little and how their music has helped me as well as other people I am close to through hard times. They told me that they really appreciate it, and that is what the music is there for, and that hearing it from fans, like myself, is the reason they do what they do.
They really are a great bunch of guys. If you get the chance to check them out, definitely do. And remember to #spreadtheashes and tell people about them. Word of mouth, or on social media, because it's the only way to get them more fans. I, myself, help in #spreadingtheashes and getting the word out there, and they are one of the bands I help promote for.

Here is a video of "Downfall" by "From Ashes to New"

https://www.youtube.com/watch?v=IqgzSeDTqfE
This song is one of my all-time favorites. I hope that you enjoy it as much as I did.
If you want to purchase any Merch, or the new album "Day One" which released earlier this year, you can do so here:

http://fromashestonew.bigcartel.com/
After From Ashes to New played, we rushed back over to Monster Energy North so that we could see Ice Nine Kills play.
I mentioned previously, that I have a big fangirl crush on the lead vocalist Spencer from Ice Nine Kills, but the rest of the band is pretty cool too. This was the second band that I was really excited to see perform live.
Ice Nine Kills is a metalcore band that is originally from Boston, Massachusetts. They are currently signed to Fearless Records.
Currently, the band is made up of Spencer Charnas, Justin DeBlieck, Justin Morrow and Conor Sullivan.
Ice Nine Kills recently released a new album, Every Trick in the Book, which was based off of stories and tales. This album was released in December 2015. Prior to that album, they released an album on January 21st 2014, called The Predator Becomes the Prey. Both are available in the Ice Nine Kills Merch Store.

Here is a song by Ice Nine Kills:

https://www.youtube.com/watch?v=TAdAOuJ1fzs
It is called Me, Myself and Hyde. It is one of my favorite songs by Ice Nine Kills, and I hope that you enjoy it as well.
If you want to support this band, or purchase merch, you can do so here:

The last three bands were on Monster Energy North, and they were the bands that everyone wanted to see. They were Atreyu, Bullet for my Valentine and Motionless in White.
Atreyu had not been to Warped tour in quite a few years, so it was nice to see them on Vans Warped Tour again. I think they said it had been something like eleven years since they had been invited back.
If you have not heard about the band Atreyu, you've been living under a rock (lol, just kidding)
But seriously, if you have not heard about the band Atreyu, you need to check them out. They are a metalcore band that has been around since 1998. They took a break in 2011, and then came back in 2014, and they released a new album in September 2015 called "Long Live" which peaked at number 26 on the billboard 200s list.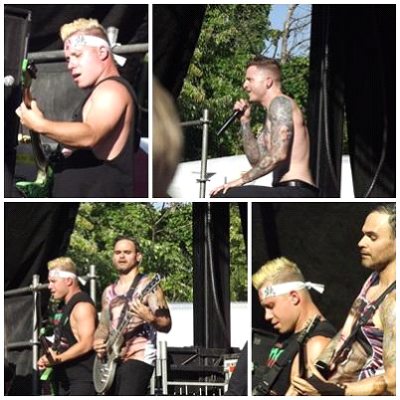 This is an older Atreyu song (from 2007), but it is one of my favorite:

https://www.youtube.com/watch?v=PqCt54Wx2e0
If you wish to support this band, and purchase some merch, you can do so here:
https://store.atreyuofficial.com/
Bullet for my Valentine played next. This was the last band I was really looking forward to seeing live. Bullet for my Valentine has been around since 1998. They are originally from Wales and are a Metalcore band made up of Matthew Tuck, Michael Paget, Michael Thomas and Jamie Mathias and they recently signed to Spinefarm Records.
Unfortunately, because of crowding issues, myself and my company got stuck in the back, and Bullet had to stop mid-performance, because a few people were having medical issues (Its rumored two people who crowd surfed had seizures, though this was never confirmed) I was sad they had to stop mid-show but it was good that they did, so the EMT's and such could get in and take care of those injured.
I was excited that they did play my favorite Bullet song, which is "Tears Don't Fall" and I was quite impressed that live, they sounded EXACTLY the same as the video.

You can view this video here:
https://www.youtube.com/watch?v=9sTQ0QdkN3Q
I did not get really great photos of Bullet for my Valentine due to being in the back, but here is one of the photos I got: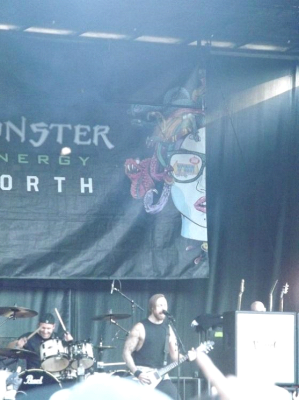 If you like Bullet for my Valentine and want to support the band and/or purchase merch you can do so here:
http://bulletformyvalentine.shop.bravadousa.com/store/
The last band that played at Warped Tour 2016 was Motionless in White.
Motionless in White is originally from Scranton, PA and are of the Gothic Metal and Metalcore genre. They have been around since 2005, but have gotten popular in recent years. They are presently signed to Roadrunner Records.
The current members of the band are: Chris "Motionless" Cerulli, Ryan Sitkowski, Ricky "Horror" Olson, Devin "Ghost" Sola and Josh Balz. The band is presently working on their fourth studio album which is due to be released in 2017 sometime.
Unfortunately, due to crowding issues and being pushed towards the back, I was unable to get really good photos again, but I really enjoyed Motionless in White's performance. At one point during the performance, Spencer from Ice Nine Kills got on stage and performed with Motionless.
If you have never heard of Motionless in White before, think of Gothic Style with August Burns Red and Avenged Sevenfold sort of music. That is pretty much how Motionless in White sounds.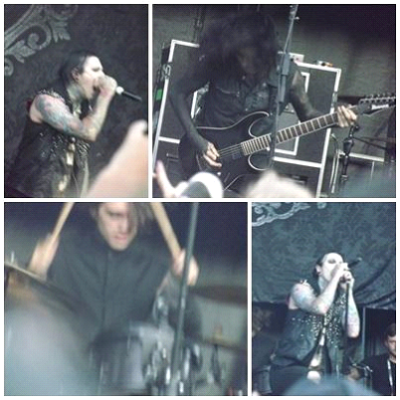 One of their recent music videos can be seen here:
https://www.youtube.com/watch?v=CVQC3bx_AXs
If you like what you hear and want to support the band and purchase merch here:
http://merchnow.com/catalogs/motionless-in-white
Oh yeah, I almost forgot, the pictures of the autographs I got…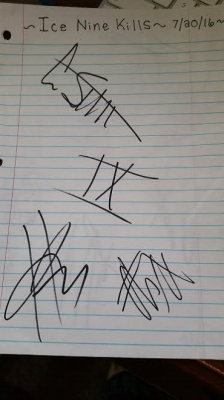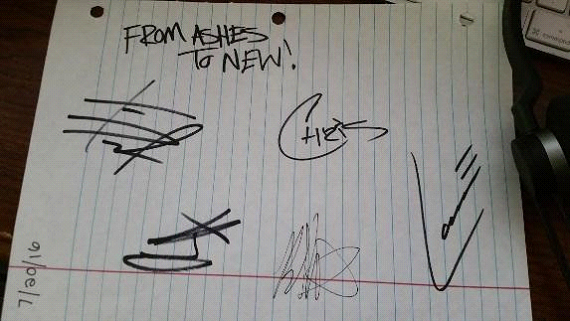 So that pretty much sums up Warped Tour 2016. I hope you enjoyed reading about my experiences with these artists this year.


It was a really good lineup this year and I look forward to what next years has in store; If you get the chance to go to a Vans Warped Tour in your lifetime, it is HIGHLY recommended. They have a lot of great music. Just don't forget, to keep applying sunscreen and drink a lot of water if you're out in the heat like I was.