Written By: Dj GhostRider


A few weeks ago, on July 13th 2016, I had the pleasure of attending one of the concerts of my dreams. That typically is something that I do not say about concerts because I attend a lot of them, with my promotions background and public relations background, but I have wanted to see Disturbed in concert since I was a little girl, and was very sad when they went on a Hiatus, so this was going to be one of those concerts that I remembered for the rest of my life. The combination of this tour was pretty much the tour of my dreams, as I have also been a Breaking Benjamin fan since before the re-organization of the group, and their music had got me through most of the rough times of my childhood, and teenage years growing up.
The concert I attended was in Cuyahoga Falls, Ohio at a venue called Blossom Music Center. It was a fairly decent venue, myself and my friend Mike went, and we had pretty decent seats on the grass. On the way up, we were blasting Disturbed, and also played some Saint Asonia, and tried to guess how the lineup would go. My guess was Alter Bridge, Saint Asonia, Breaking Benjamin and Disturbed, but I had it a tad bit backwards, where they had Saint Asonia open. We arrived around 6:00pm, and the concert started around 7:00pm. One of the things that I was pickiest about and I found driving me pretty nuts was the lighting to Saint Asonia's set. Most of the times, usually a sound technician for the band drives me nuts, but from where we were seated, we could not get decent photos. I was pretty bummed about that.
I figure since not everyone is going to be familiar with the bands that played, I would also include a bit about them in this write up:
Saint Asonia:
Saint Asonia is Adam Gontier's band. Adam previously did vocals for Three Days Grace. They have been around since 2014, and they won an award for Best New Artist in 2015 from Loudwire.
Alter Bridge:
Alter Bridge has been around since 2004 and they are from Orlando, Florida originally. The band consist of Myles Kennedy, Mark Tremonti, Brian Marshall and Scott Philips. They have five major albums that were put out and are well known for their music within the Christian Rock genre.

Breaking Benjamin:
Breaking Benjamin has been around since 1999, and was originally formed in Pennsylvania.  They went on a hiatus in 2010 to reform, and are currently back with a really good lineup of musicians and music. They put out five major albums as well, and their most recent is "Dark Before Dawn".
Disturbed:
If you don't know who Disturbed is, where have you been? Haha. Anyway, Disturbed is a Rock band, formed by David Draiman. Originally formed in Chicago, Illinois. They currently have put out six major albums and are well known for getting "down with the sickness".  They have been around since 1999, but did also go on a hiatus in 2011, and came back in 2015 with their new album Immortalized.
Now that I have covered a bit about each band, I shall do my best to cover each bands lineup.


Saint Asonia played:
⦁ Fairy Tale
⦁ King of Nothing
⦁ Dying Slowly
⦁ Better Place
⦁ I hate everything about you (which was a Three Days Grace cover)
⦁ Let Me Live My Life
Alter Bridge played:
⦁ Addicted to Pain
⦁ Find the Real
⦁ Ghost of Days Gone By
⦁ Blackbird
⦁ Isolation
⦁ Rise Today


Breaking Benjamin played:
⦁ So Cold
⦁ Angels Fall
⦁ Sooner or Later
⦁ Blow Me Away
⦁ The Imperial March/Schism/Smells Like Teen Spirit/Walk
⦁ Polyamarous
⦁ Ashes of Eden
⦁ Believe
⦁ Breath
⦁ Failure
⦁ Until the End
⦁ I Will Not Bow
⦁ Diary of Jane
Lastly, Disturbed Played:
⦁ Ten Thousand Fists
⦁ The Game
⦁ The Vengeful One
⦁ Prayer
⦁ Liberate
⦁ Stupify
⦁ The Sound of Silence
⦁ Inside the Fire
⦁ The Light
⦁ Stricken
⦁ Indestructible
⦁ Voices
⦁ Down with the Sickness


Now, as far as the most memorable goes for this concert:
I definitely want to point out that the whole "Imperial March" thing that Breaking Benjamin does is really freaking awesome. I quite enjoyed how they mashed all the songs together.
Also, My phone app, which is called Dark Sky Forecast, which is extremely reliable had alerted me to possible rain showers. To me, rain was nothing, we could handle a few showers, after all, we were in the outside, and it was summer time, BUT I think it mistook itself when it said "showers".
The concert was being LiveStreamed through Yahoo so that viewers who could not attend could view the concert, and were complaining about the quality of the streams and how it sounded. Little did we know, torrential downpours, heavy winds, and a very bad lightning storm would cause a tornado warning in the area.
Out of nowhere, after Disturbed started "Prayer" the winds picked up, thunder so loud the ground was able to shake, and lightning along with torrential downpours interrupted the show. Disturbed paused, and made an announcement asking everyone to make their way under the pavilion.
Imagine, 4,000 people trying to cram their way into a pavilion that only seated about 1,000 people. It simply just was not going to work. There was approximately a 30 minute to an hour break in the performance of Disturbed, and then they came back on stage and finished.
As David Draiman performed "Sound of Silence" the rain poured, and the earth literally shook. It was a pretty intense, powerful moment. It was as though he was meant to perform that song at that moment.
It was probably one of the most intense moments of my life, because I am deathly petrified of thunder and lightning from an event that happened to me as a child. The show definitely goes down as one to remember in my books.
Feel free to check out these bands. The tour itself was greatly put together, and other than the storm that occurred, I had a great time.
​
Here are some photos from the show:
​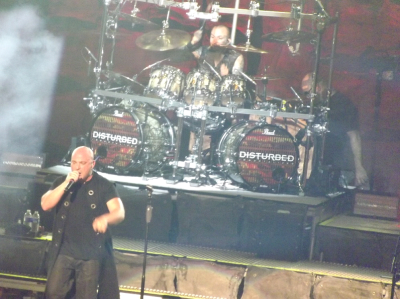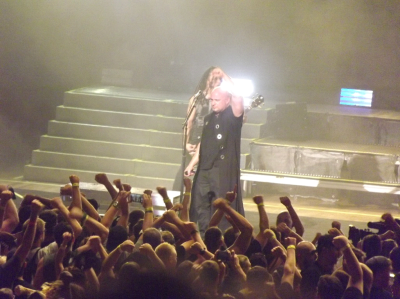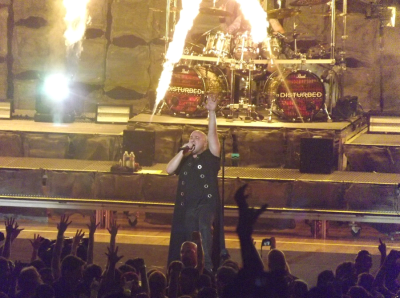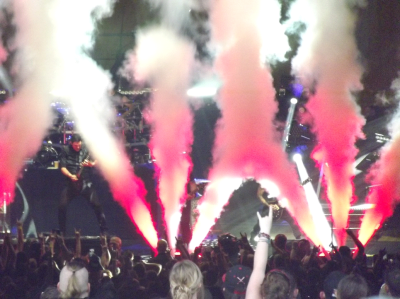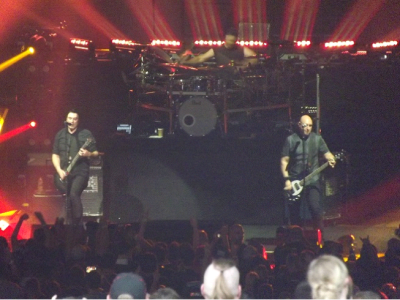 So if this tour is coming to a town near you, you might want to check it out.

Their tour is hitting the following states:

Jul 23 2016 Xfinity Center in Boston, MA

Jul 24 2016 Darien Lake Performing Arts Center in Darien Center, NY

Jul 26 2016 DTE Energy Amphitheater in Detroit, MI

Jul 27 2016 Riverbend Music Center in Cincinnatti, OH

Jul 29 2016 The Pavilion at Montage Mountain in Scranton, PA

Jul 30 2016 Nikon at Jones Beach Theater in Wantagh, NY

Jul 31 2016 PNC Bank Arts Center in Holmdel, NJ

Aug 2 2016 Farm Bureau Live in Virginia Beach, VA

Aug 4 2016 Bank of NH Pavilion in Gilford, NH

Aug 7 2016 Heavy Montreal in Montreal, QC

Aug 8 2016 Molson Canadian Amphitheatre in Toronto, ON

Aug 11 2016 Zoo Amphitheatre in Oklahoma City, OK

Aug 12 2016 Gexa Energy Amphitheater in Dallas, TX

Aug 13 2016 Cynthia Woods Mitchell Pavilion in Houston, TX

Aug 15 2016 Red Rocks Amphitheatre in Denver, CO

Aug 17 2016 Isleta Amphitheater in Albuquerque, NM

Aug 19 2016 Concord Pavilion in Concord, CA

Aug 21 2016 KISW Pain in the Grass 2016 in Auburn, WA
​